The heart of Black Santa and the imagination of Children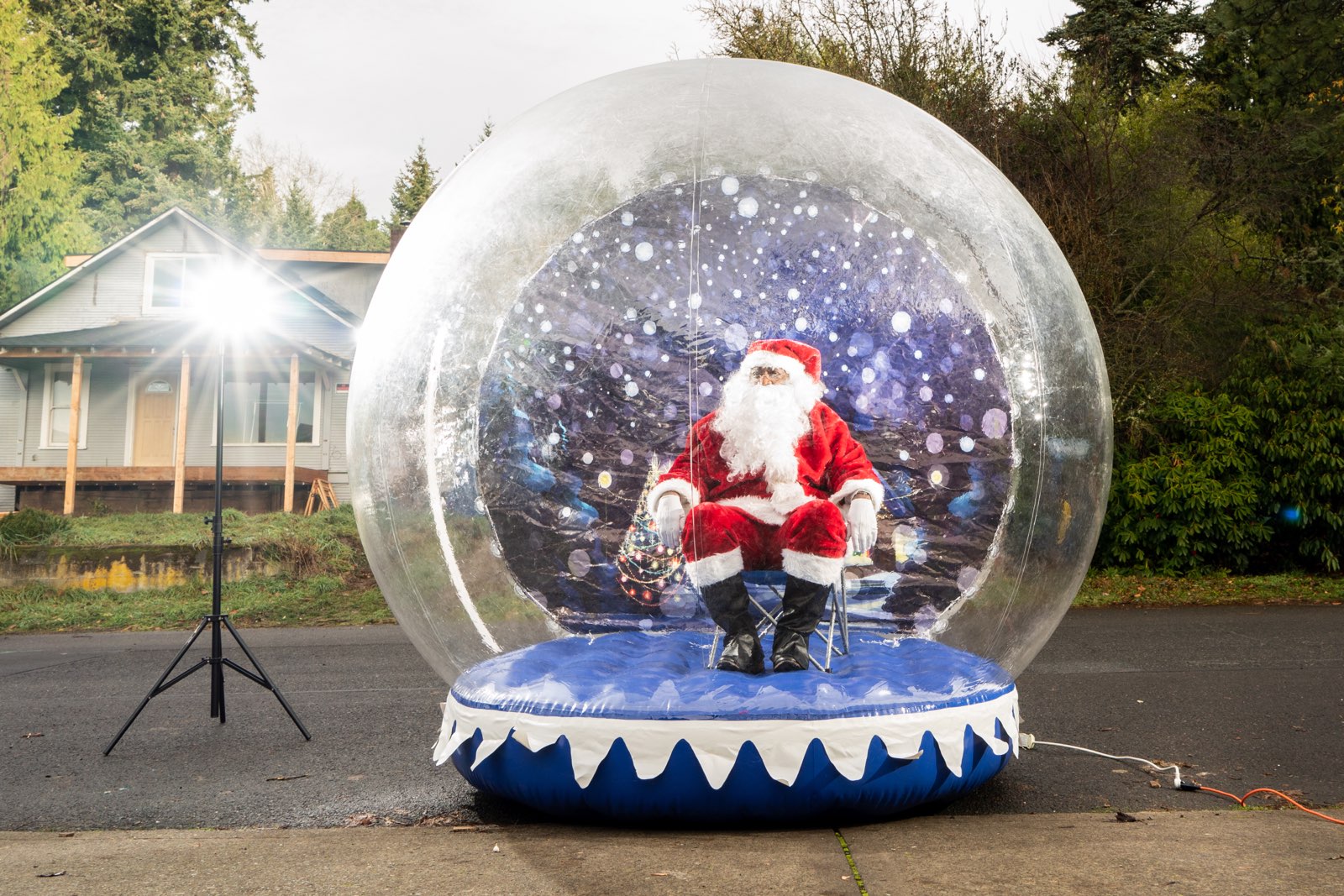 For the past 17 years I have had the pleasure of serving as Black Santa, taking pictures with kids and handing out candy canes.  I have been Black Santa for churches and often one of the first at major department stores.  This year, in light of the pandemic and safety concerns, rather than canceling events, we chose to find a creative solution.   That is the subject of the recent Willamette Week article that detailed our Black Santa efforts this year. 
The magic begins as I climb inside a life size, inflatable snow globe.  This allows me to talk to children and parents and families to take pictures in a way that is fun but Covid safe.  2020 will also be the first time Black Santa comes to Boise, Idaho and my first time on a travel trailer in a parade.  It is an aspect of my holiday season that I treasure.  
I originally started doing it because I wanted to further the idea of representation.  Although Santa is a mythical figure, it is important that black children and children of color can see themselves in that figure. He brings alive imagination.  Everything in this country whether mythical or real is usually portrayed as white, if the person that comes bringing joy, presents, and laughter, and engages imagination is only a white figure that is a problem.  For these reasons, Black Santa began to take shape in my heart.   
An additional dynamic began to emerge when I moved to the Pacific Northwest.  The significance of Black Santa became apparent in a new way.  I began to notice many of the Black kids on my lap had white parents.  It seems that one of the communities that is taking advantage of Black Santa is white families that have fostered or adopted Black children.  I have many thoughts about the implications on cultural identity theory as it relates to white families raising children of color.  I do think that bringing them to Black Santa shows some awareness of the need to find resources outside themselves in order to responsibly rear these children in the US American context.
As a foster and adoptive parent myself, I know the holidays can be challenging.  For many children with trauma, this season is a conscious and subconscious reminder of past hurts.  This can manifest itself as a heightened sense of awareness, agitation, and anxiety.  All parents juggle the busyness of the season, shopping, and family plans.  Foster and Adoptive parents look at all of those activities through the lens of what is healthy and helpful for the most vulnerable in our families.  Plans can be adjusted, and expectations can change, when our children need different routines and ways to celebrate.  
One thing I have learned is that foster and adopted children are resilient and strong.  It is also what I believe about Black Santa. Like all other aspects of racial awakening in the US, Black Santa has had to fight for his place in America's hearts, malls, and pictures.  
"In the early 20th century, there were accounts of black men dressing up as Santa, usually being met
with racial slurs and insults. Even President Woodrow Wilson mocked and looked down upon a black Santa Claus that visited his Christmas dinner.
Beginning in the 1950s, black Santas started to be seen more frequently in inner-city shopping malls around the U.S. As white Americans started mass-migrating to suburban areas, malls and department stores in urban areas began to market to their predominantly black shoppers.
In the 1960s, black Santa Claus became a symbol in the civil rights movement as a form of black empowerment. Many activists called out the portrayal of Santa as a white man as an example of whitewashing even childrens' stories."
The Origins of Black Santa, Hugo Fajardo, The Tulane Hullabaloo, November 29, 2018
Whether a family teaches their children about Santa Claus or not, he sits in the imagination of US and world culture in our most festive season.  Black Santa is a reminder to me that even our youngest children need counter systems like multiracial dolls, black and brown main characters in books, cartoons and movies that center nondominant cultures, as well as princesses and superheroes that look like themselves.  I am happy that Black Santa can bring a bit of a reprieve for families this year, spread some holiday joy, and make it easier for any family to have a culturally responsive season that celebrates the God who created all people and all cultures in the divine image and very good.  
Please Note:  Demand for Black Santa this year has increased significantly due to our ability to do it in a Covid responsive way.  If you would like to contribute to the effort please visit our fundraiser.
Previous Post
Next Post