Anger
James Baldwin said, "To be a Negro in this country and to be relatively conscious is to be in a rage almost all of the time."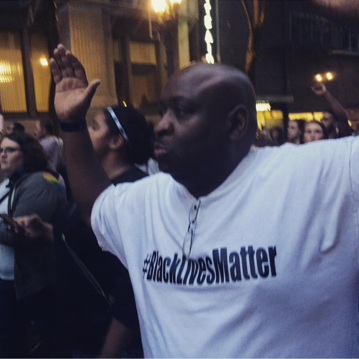 Though I try to temper and channel that rage, sometimes it is impossible to keep in. The events of Ahmaud Arbery, George Floyd, Christian Cooper, and the Covid-19 virus taking out a disproportionate amount of black folks has created a moment that is no longer served by the tempering of that rage. I am angry and in no mood to placate white feelings. As black folks, we need to process our thoughts and feelings in this moment for the health of our community. I have no energy to pacify the needed words for the sake of the white people who may read or hear them. Most of my sisters and brothers and I live lives of measuring and moderating our actions and communications for the white folks in the room. Today is not one of those days.
If you are white and you need black people to be nice to you right now, you are not understanding the gravity of the moment. By asking or insinuating this, you are only asking to re-center the conversation on yourself. I will not. Please do not ask this of the black people in your life. If you ask me to talk with you, I am not sure what you mean. Do you want to ask questions? Do you want a calm demeanor? I have walked with more than my fair share of white people as they get 'woke'. In those conversations, I can pacify the rage Baldwin so eloquently names. Now is the time, however, for me to talk on my terms.
For good reasons, many black folks cannot make their unfiltered thoughts public. White America is a fragile people group and there are consequences for black folks when we speak. I don't blame my people; it is a cost/benefit analysis every time we communicate unfiltered.
We will not wait for the story to unfold. We don't need to know whatever dirt can be drug up on Ahmaud, George, or Christian. Lynching is not back in America, it never left. Too many police officers have evaded prosecution by claiming 'they felt like they were in danger'. Now this line of reasoning has gone beyond policing. Any white gun owner can justify killing a black jogger because 'they felt like they were in danger'. Any white dog owner can justify calling in the state execution team because 'they felt like they were in danger'. This escalation presents an existential threat to all of our black bodies.
Our ancestors, like Baldwin, lived these realities too. They had wished for an evolution in this country so that we would not have to face these atrocities. Their wishes have not come true. It seems like mine will not either. I am losing faith in the America that my grandkids will face. Let's hope they listen to BLM, Kap, and others preparing them for their moments.
If a white person wants to listen in to these conversations, you need to be prepared to know that it will sting. You can have a place in the conversation, if it is with me, in this moment, but it will be a hard conversation. Do the work of listening to black folks and take those thoughts to the white people around you and consider them deeply before engaging any person of color right now.
If you are a black person reading this, take care of yourself. Come together. You have no responsibility to bring your white friends along. I applaud you as I know that some of you will have the grace to do this. Your anger is justified, your despair is shared, your life is valuable.
Previous Post
Next Post